Description
Here's Your Competitive Edge
We started with the aerodynamic form factor of the popular Edge 500, added in-ride challenges on Strava live segments, color display, connected capabilities and advanced analysis features. The result — Edge 520, the GPS bike computer that's right-sized for competitive cyclists and packed with the features you crave.
Prove Your Edge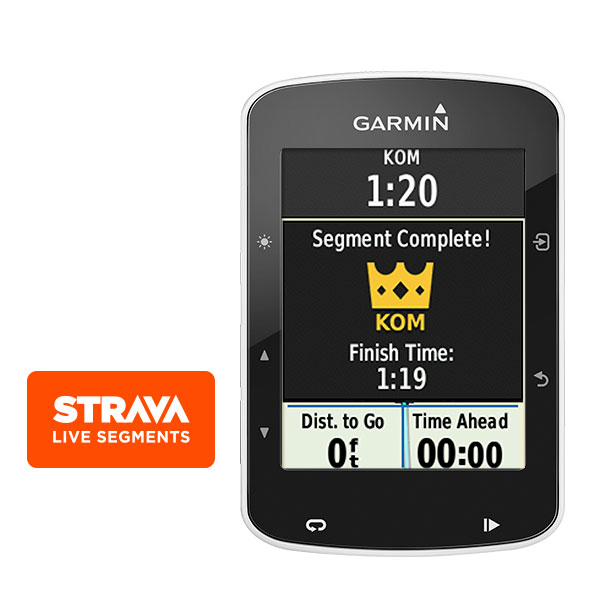 Edge 520 is the first bike computer that's compatible with Strava live segments and includes a 2-month trial of Strava Premium. With this membership, your starred Strava segments automatically sync with the 520 for live feedback during your ride. You'll also get alerts for segment start and finish and leaderboard rankings once you complete the segment.
Train on the Edge
Need some motivation to get through those lonely miles on the indoor trainer? Edge 520 delivers with a suite of training capabilities when paired with compatible ANT+ indoor trainers. Let's say you want to train at an average power of 240 watts. Just set the target on Edge 520, start pedaling, and the trainer will automatically adjust to keep you at your target while the 520 shows your stats. You can also follow a course that you or another rider created and literally race the recorded stats, with the trainer adjusting resistance to match the elevation profile.
Edge 520, the GPS bike computer that's right-sized for competitive cyclists and packed with the features you crave.
Pair it with a power meter and Edge 520 offers an additional set of features, like FTP and watts/kg tracking, so you can compare yourself to others, as well as cycling dynamics². A built-in FTP test helps you establish your baseline either on the trainer or on the road. Add heart rate³ and the 520 can derive your VO2 max estimate and post-ride recovery time, which indicates how long before you should attempt another hard effort.
Optimized Display
Edge 520 compromises nothing when it comes to display — 2.3 inches of high-resolution color. We maximized the display so you get the most live area in relation to the compact size of the 520. You'll also appreciate the screen clarity in all lighting conditions.
The Connected Bike
Edge 520 is compatible with ANT+ sensors, including Varia™ bike radar and lights4, speed, cadence, heart rate, Edge and VIRB® remotes and compatible weight scales. It also integrates with Shimano Di2 electronic shifting systems5 to display your current gear on the screen. Edge 520 is also compatible with ANT+ power meters, including the Vector series.
iLevels Compatibility
Compatible Garmin Edge devices will now work with WKO4 individual power levels (iLevels), the newest metric for cyclists and triathletes who train with a power meter. Developed by Dr. Andrew Coggan, iLevels are specific training levels based on an athlete's unique physiology and current level of fitness.
WKO4 software, developed by TrainingPeaks, has changed how coaches and athletes analyze data and prescribe workouts. Fully customizable charts allow you to view and compare specific data to gain clearer insights into your training. Based on the introduction of the power duration curve, WKO4 has introduced several new training metrics, including Functional Reserve Capacity and Pmax tracking, which help coaches and athletes track their specific fitness.
The prescription of power-based training is derived from an athlete's Functional Threshold Power and targeted to general percentages. iLevels are based on the power duration curve and adjust automatically based on your performance. They detect micro changes in fitness to ensure you are always training at the right intensity.
Now you can update iLevels directly from WKO4 by simply plugging in your Edge 520 and automatically downloading the daily iLevels to your Garmin device. These iLevels will be displayed in a unique 9 levels view on the Garmin head unit and will be available in workouts. Download a free 14-day trial of WKO4.
Smartphone Connectivity
When paired with your compatible phone and the Garmin Connect™ Mobile app, Edge 520 offers live tracking, smartphone alerts, social media sharing, weather and wireless uploads. Once your ride is complete, the data can be automatically sent to Garmin Connect™, our online community where you can save, plan and share your rides.
LiveTrack is Getting Easier to Use
LiveTrack lets family and friends track your location in real-time while you're riding, and now it's even easier to use. When you enable auto-start, you can spend more time focusing on the ride and less on the technology. LiveTrack will automatically detect when you start riding, which means there's no need to even reach for your phone anymore. Auto-start is also compatible with the new Strava Beacon, which lets Strava Premium subscribers take advantage of the same great feature. It's never been easier for you and your loved ones to have peace of mind while you ride.
Off the Beaten Path
The compact, rugged form factor and 15+ hour battery life of Edge 520 make it ideal for off-road adventures. It's also compatible with GPS/GLONASS satellites, so you benefit from more signal options, wherever your ride takes you.